After weeks of preparations, it's over! Here at Media Press, we want to thank you for attending our first webinar ever dedicated to the Hubert system. We hope you enjoyed participating in our event as much as we enjoyed organizing it!  
Each of the speakers showed professionalism and presented themselves in the best possible way.  The webinar covered primarily covered Hubert as a multi-channel system, its comparison to other publishing solutions, its possible paths of development. and a detailed success story of working with media-press tv and Hubert. 
We are proud to announce that nearly 100 people registered for our first webinar, with representatives of the biggest media companies from around the world!  
On Facebook alone, the event reached almost 20,000 users, and the media press fan page increased by 3810%!  While on Linked in we've gained 80 new followers. 
50% of the survey respondents rated the webinar and the level of knowledge transferred during the event at 5.0, which is the highest rating! We also received many answers encouraging us to organize such events more often, which we will gladly do. 
Despite the working hours, the webinar consisted of approximately 70 active users throughout its duration. Pertinent questions were asked throughout the presentation, which indicates the high level of interest among the users. You can see a few of them below ????  
The most pressing question, when will Hubert work under Catalina and InDesign 2020 or 2021?




InDesign 2020 is now supported, 2021 – can be supported quickly. 

Ind

esign

 2020 or 2021. Issue Manager and Edward – first half of 2021

 (if nothing worse than pandemic happens of course).

That is then the solution for macOS 10.15.x (Catalina)?




Exactly – the Content Selector is ported and works in Catalina right now.  The rest is in the intensive development.

Is it possible to integrate VOD catalogues with Hubert?




Yes. It shouldn't be a problem to integrate your own catalogues. This is what Hubert is for generally 

????

How can we access the results of 

metadata

/photo production in Hubert to integrate it with our flow?




Hubert includes the customizable export/photo production system that delivers the incremental changes to the customer in 

a number of

 formats and data delivery models. Data can be delivered in the JSON format to the Azure account, file share, FTP or directly to the Elasticsearch or Postgres database. Processed and cropped photos can be delivered to the file share or Azure account (referenced from the data files). We also support the scenario when 

the 

customer is

 notified about the changes and 

is able to

 pull the data via API in its own pace. Very 

configurable.

Will you provide the slides after the live presentation?




Yes. Please send us an email at 

hubert2020@localhost

Using Hubert as a cloud solution 

do

 we need our own InDesign server?




No. Hubert runs multiple farms of InDesign servers in our datacenter. 

So

 you would need only the InDesign 

licence

 or even the cheaper InCopy to produce.

Do you support migration to higher version of InDesign 

eg.

 CS6 to CC2020 or from CC2014 to 2020?




Yes. It is very important in the world in which Adobe releases new version every year and quickly 

decommission

 

the old ones…

Can Hubert AI recognize people on the pictures?




Yes. Over 10000 right now and growing

.

 
Overall, we are delighted to see such great interest in our products, and we are open to suggestions of topics for future webinars and in-person events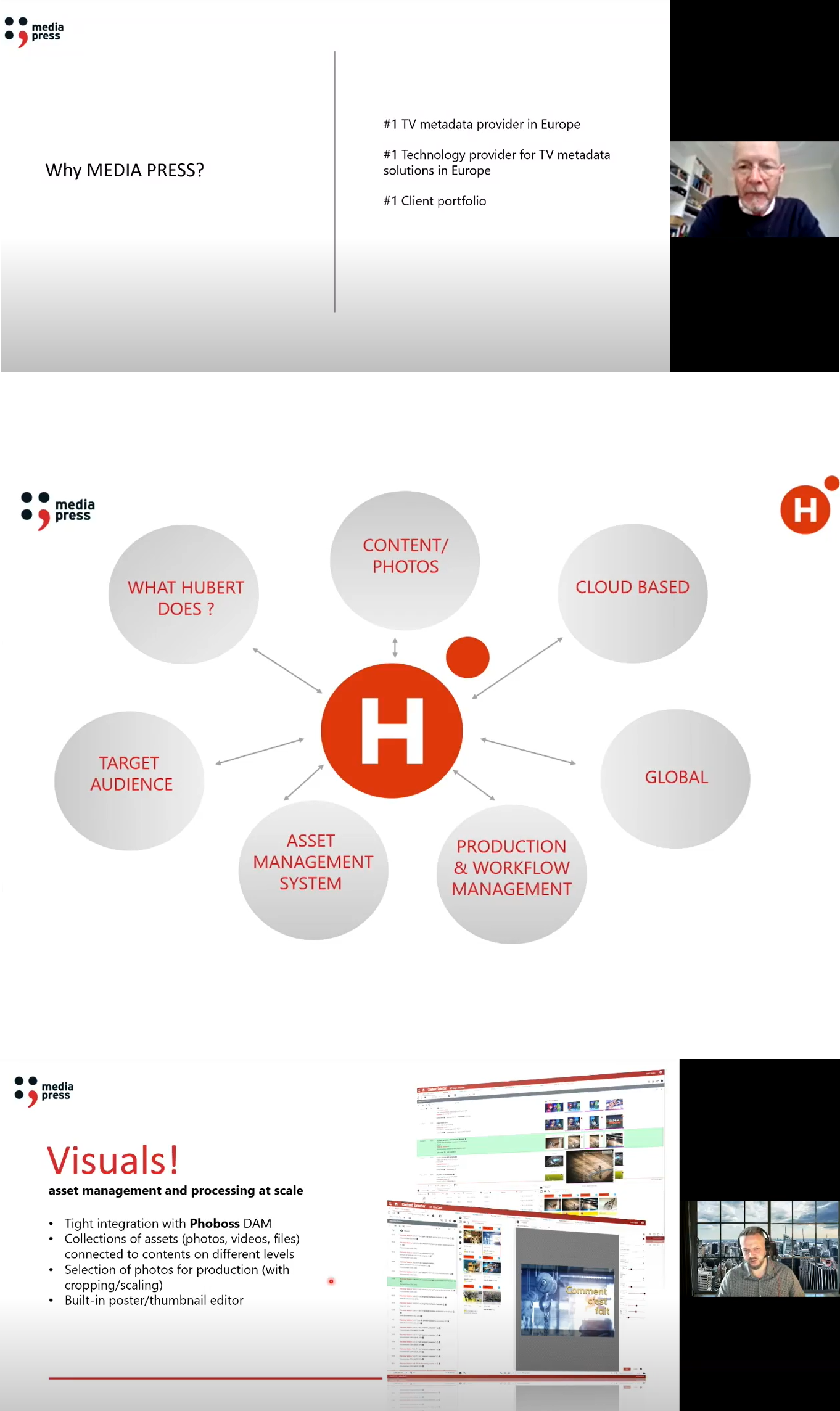 If you are interested in webinar materials or have more questions, please don't hesitate to contact us at hubert2020@localhost.