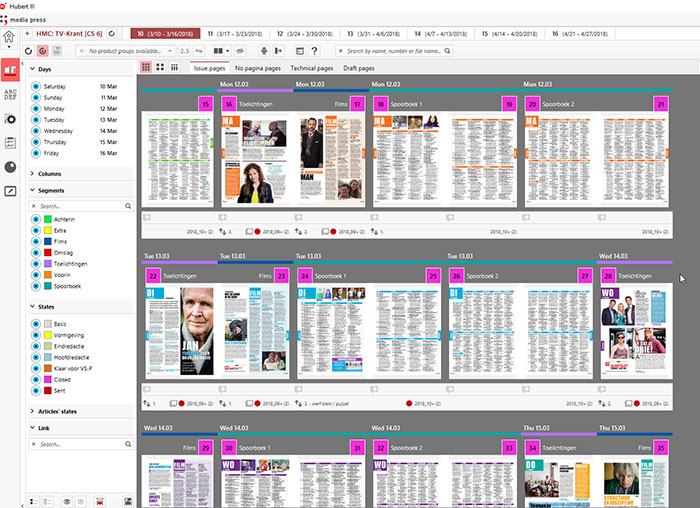 15 Mar

the first complete magazine prepared in our publishing system
yes, we can!
We are proud to announce that on January 2018 HMC (Hilversumse Media Compagnie) – the TV Krant publisher and one of clients of our partner (Bindinc.) – prepared the whole edition of the magazine using media-press' Hubert (the highly integrated content managing and publishing system). We have been producing TV listings in various publications for decades, but these 51 pages of TV Krant are the proof that we can be treated as an expert and an essential support in creating any TV magazine.
expert in publishing – system that makes editorial work easy and cost-effective
Our Hubert is a comprehensive editorial system which enables creating magazines starting from design, through graphic, editorial and production process to finish with – from the cover to the last page. Our main value is "content first", which means that we start with careful selection of information and pictures so that we could process with well prepared, checked and standardized data. Then we use them to fill a clear and adequate structure that is created strictly to customers' needs. Moreover, each stage of the editing process can be overseen and directed with use of custom-defined workflow status commands and a live reporting system.
making publishers happy
So, in depth Hubert system means: first content + perfect structure + full control, but for our clients the result of such mixing, which is making the whole process cost effective, is also important. As Edger Hamer, chief editor of the TV Krant said: "HMC was looking for a long time for a reliable and a very flexible editorial system which would meet our demands and the requirements of our TV-guides. TV Krant is the first TV-guide which is fully edited in the Hubert System. In 2016, we decided to edit the audition pages in Hubert and the next logical step for us was to integrate all the editorial pages, including the cover, with the system. One of the major advantages of Hubert is that the system can be configured tailor-made to our demands. We are now able to create different versions of editorial pages, thanks to which we obtained a smooth, fresh and different styling for every single day. Moreover, the practical links between editorial and audition pages enable us in a very efficient way to provide all changes to be always up-to-date".
long-term cooperation
Such a great cooperation makes us delighted and creates new possibilities of dealing with constantly changing print media market to meet growing expectations of the audience. We are happy to share the success with HMC as well as with Bindinc – the top metadata supplier in Netherlands and our long-term partner (we both are co-founders of TEMDG – The European Metadata Group).