We live in a time when graphics play a crucial role in conveying information, and it's no different in our industry. We've long since abandoned strategies of presenting programming schedules in a strictly text format. Operators are increasingly turning to advanced interfaces to convey information about broadcast programming in a contemporary, easy-to-understand, and visually attractive way. And none of this would be possible without the right images to illustrate particular types of programming. Media Press is committed to delivering EPG data with the greatest possible image coverage, so that the end user receives the highest possible product quality.
Images, images, and more images
Media Press has a database of more than 12,000,000 different images and illustrations, originating from more than 4,000 suppliers, including TV stations, content producers, distributors, and nearly 600 photo agencies.
By far the largest category of these images is "stills / photos", making up almost 80% of the total material.  Other significant categories are "title cards" (6%) and shots of actors and actresses (approximately 7%).
An interesting asset in the Media Press database are the nearly 50,000 graphics in the "logo" category; these include the logos of TV stations, streaming platforms, sports teams, and many others.
The vast majority of images in the Media Press archive, in total accounting for about 70% of the database, are of course photos from films, series, and documentaries, but there is also a significant number of images from sports events and illustrations for mass-appeal programming, TV shows, and broadly understood entertainment covering a further 20%.
Not enough images? No problem. We've got you covered
It may occur that the appropriate image isn't available because, well, it simply doesn't exist. This can happen in the case of live programmes or intellectual property rights which restrict the use of such images.
In that case, we have several solutions to offer.
First, the Media Press image department can take extra steps to acquire an image from available sources. These can be from free, publicly accessible sources or from specialised photo agencies, in which case usage and possible licensing fees are arranged on an individual basis.
A second solution is the use of generic images which, instead of showing an original image, instead show a general illustration of a given type of TV event. A good example of this type of solution is the case of football matches which have not taken place yet. In this case, a topical illustration related to the theme the event is developed in collaboration with the client, such as a football pitch and ball, the silhouette of a player, and so on. This is, of course, not really an image from the event but serves as a stand-in and is better than nothing.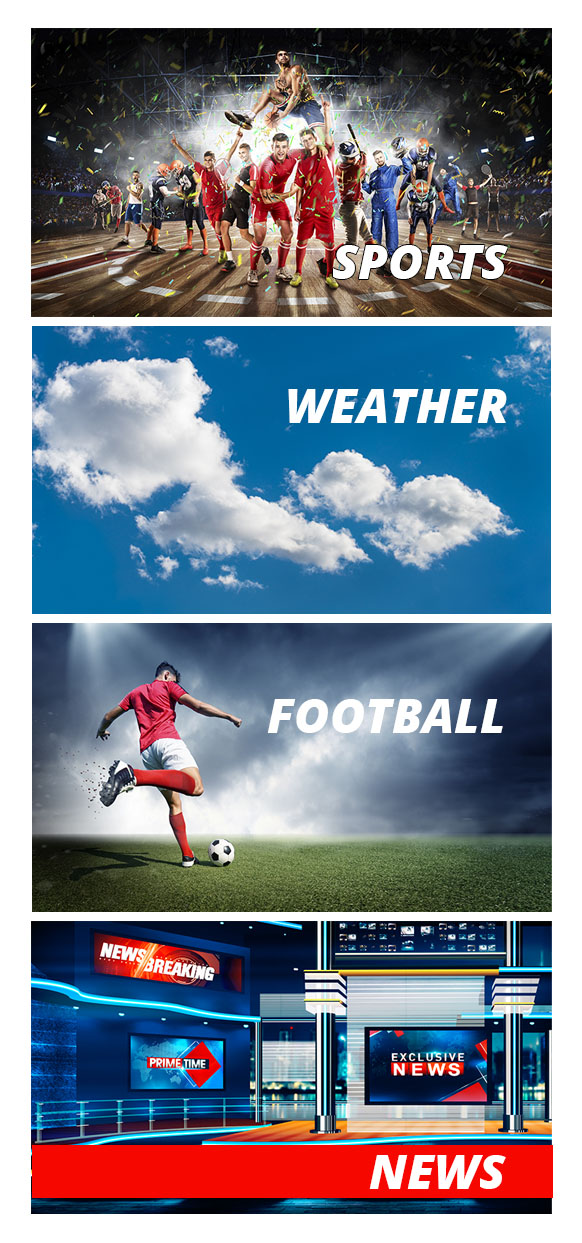 Orientation counts
Our clients often need both a portrait and landscape version of an image. At Media Press, we make a strong effort to ensure that you receive both versions. It can happen, though, that for a particular program only one of these is available. Fortunately, by using an AI algorithm, we can crop the existing image in such a way as to generate the missing version.
The use of AI in this process is indispensable; without it, automatic cropping might result in cutting out some important element of the image, which would defeat the purpose of cropping.  The AI algorithm first analyses the contents of the illustration, and only then crops, making sure that the image's main elements remain intact. So from a single image we can generate two; one in portrait format and one in landscape format.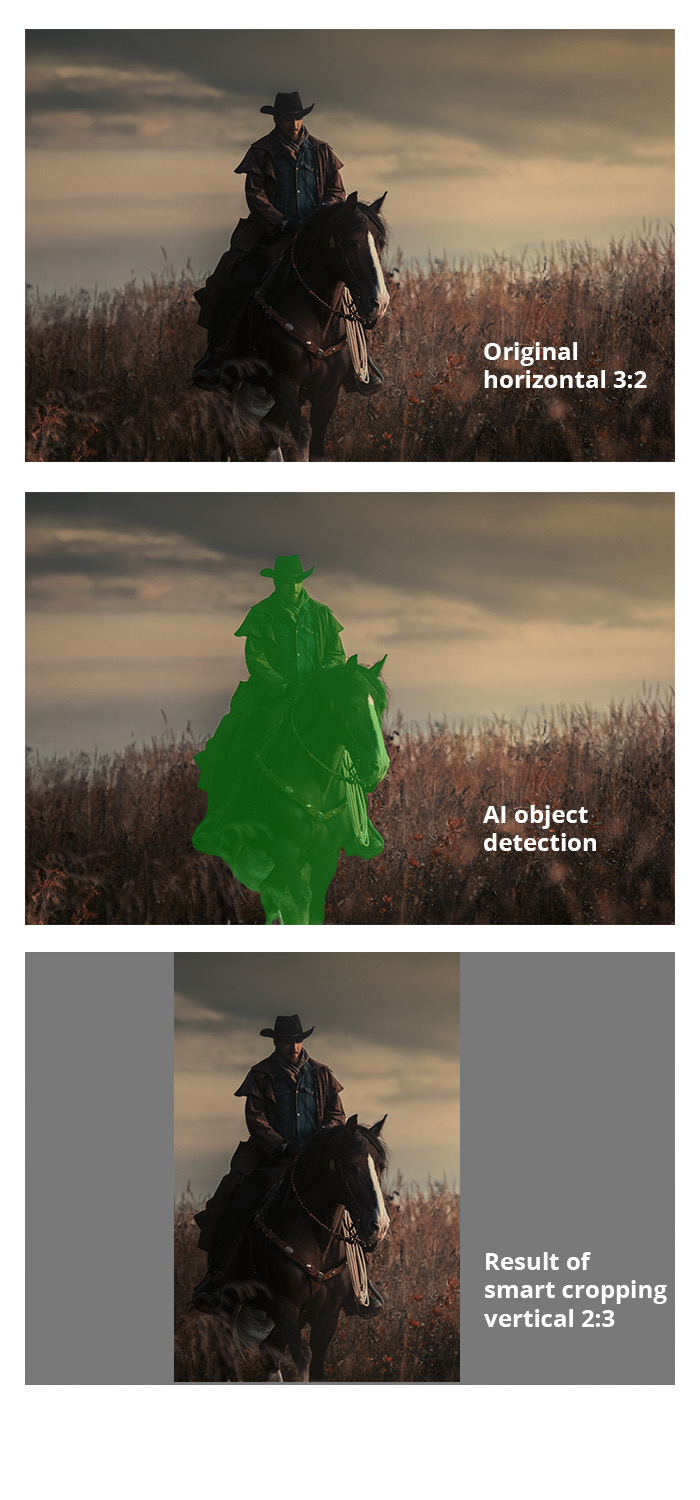 Size matters
It can also happen that the image in our database is too small. Nowadays with ever-increasing resolution and larger screens, the need for hi-res images is constantly growing.
Fortunately, in this case too the AI algorithm developed by Media Press comes to the rescue. The algorithm enlarges the image, up to four times larger, without this resulting in a noticeable loss of image quality. Thus, an original 800 px x 600 px image can be expanded up to as much as 3200 px x 2400 px, giving significantly broader possibilities for further editing of the image.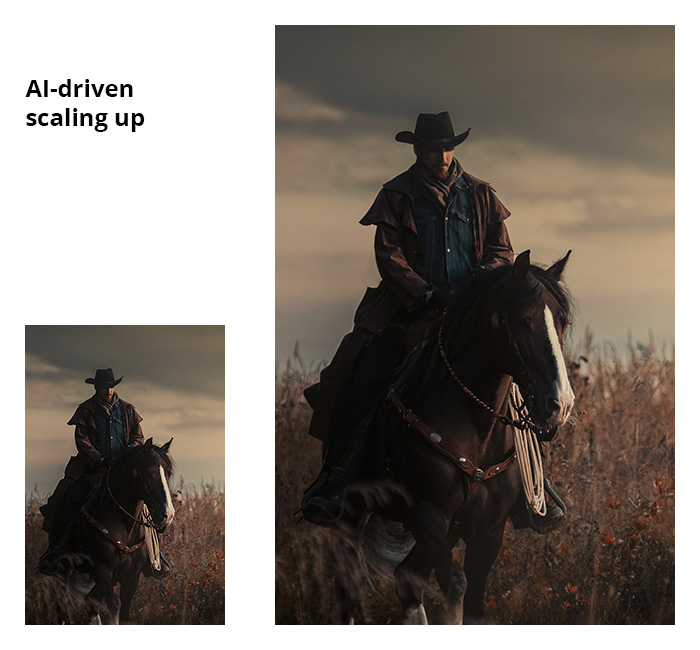 Title card
A whole other category of illustrations that have become popular since the inception of streaming services like Netflix are combinations of still frames with overlaid text. That text can include a title, description, channel, and broadcast time. This type of presentation is rapidly becoming the standard for TV operators.
Media Press offers a service for developing illustrations like these. They can be illustrations for films or series, or even for sports events.
These latter are especially interesting because they can be an engaging alternative for images from live events which have yet to take place.
Take for example a title card for a football match where the team logos, names, and time and place of the match are overlaid on a background showing the stadium where the match is played.
Media Press can design a graphic layout for these illustrations or adapt a design that you provide.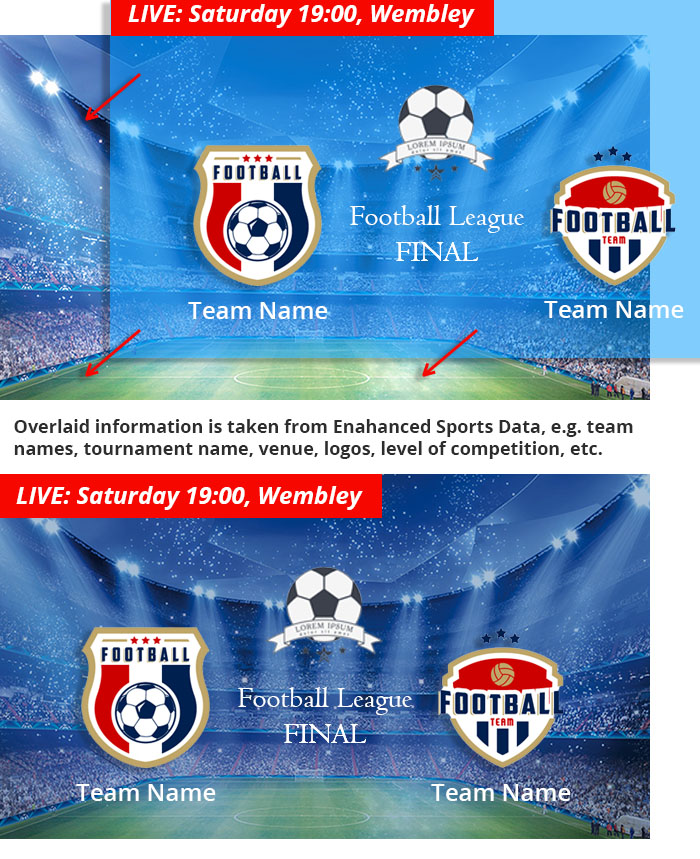 Intellectual property rights
Media Press makes every effort to ensure that images supplied are compliant with the licensing conditions set by the supplier. That's why every image in the Media Press database has a defined set of usage rights, to which we strictly adhere.
In order to manage these usage rights, Media Press has developed a state-of-the-art Digital Asset Management system called Phoboss DAM. This is a modern, cloud-based solution which can be accessed via web browser, meaning that our clients can also have access to it. Each client is assigned an area where they can manage their own images as well as images supplied by Media Press.
In addition to licensing conditions, Phoboss DAM additionally stores originals of the files provided by suppliers so that we are always able to determine the origin and intellectual property rights associated with a given image.
———-
Want to find out more about images for your EPG? Don't hesitate to contact us and find out what we can do for you.
———-