ESD is a special package of additional information about sports events, which significantly enriches regular content provided by TV stations. This makes it possible to build an advanced sports service that will allow fans to access a wealth of interesting information, as well as easy navigation and to carry out accurate searches for linked material.
This is a more advanced data service than is normally provided to industry standards. Typical EPG descriptions simply give the title of a sports event, the title of the competition or tournament and the scheduled time of broadcast on a given channel.
Media Press now provides our clients with a richer resource of information about sports events ahead of broadcast. ESD enables our editors to add a wealth of library and current sports event-related information to our enhanced EPG service, which is not normally offered to the viewer on demand.
Media Press ID system for cross-referencing
A standard EPG database is structured as a series of short descriptions of a given sports event, in a self-contained format. This does not allow for cross-referencing.
However, ESD is a more advanced and versatile system. It stores EPG data in a coherent and structured format, because of the way that elements of an EPG description are sourced from and linked to a series of inter-connected tables of data. Each table deals with a different element of a sports event.
ESD elements:
• Event name
• Discipline
• Date and time of the event
• Tournament name
• Tournament season
• Teams or competitors
• Stage of the competition
• Venue information
• Description
• Visuals
Each EPG description of a given sports event has its own identifier. A single EPG description of a forthcoming sports event is constructed by the editor linking the event to the relevant data value that is contained in each separate data table.
With ESD, the EPG description of any sports event is connected to the entire database. Given that each table holds the aggregate of all data that is necessary to create enhanced EPG descriptions, ESD allows for cross-referencing across the database.
ESD offers so much more than the standard EPG service.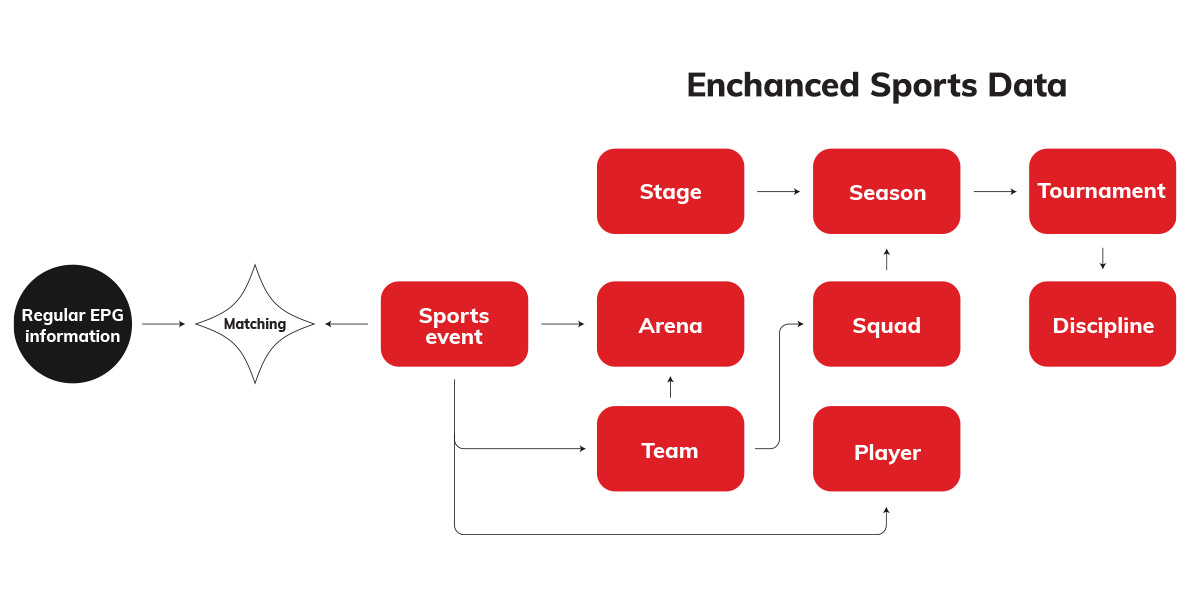 Visuals
ESD connects relevant graphic content (photos and/or logos) to forthcoming sports programmes. Images also have their own IDs, so it is just a matter of attaching this data to the identifier that generates the enriched description of the sports event in question.
This means that TV schedule publishers and EPG platform providers gain access to relevant images which best illustrate a selected event. With intellectual property rights pre-checked and safeguarded, ESD enables our clients to browse and choose an appropriate selection of images.
'Title Cards' include logos of leagues and teams, together with other graphics which are characteristic of the competition, game or event in question (eg. stadium, organising body, action frames or images of athletic equipment used by competitors).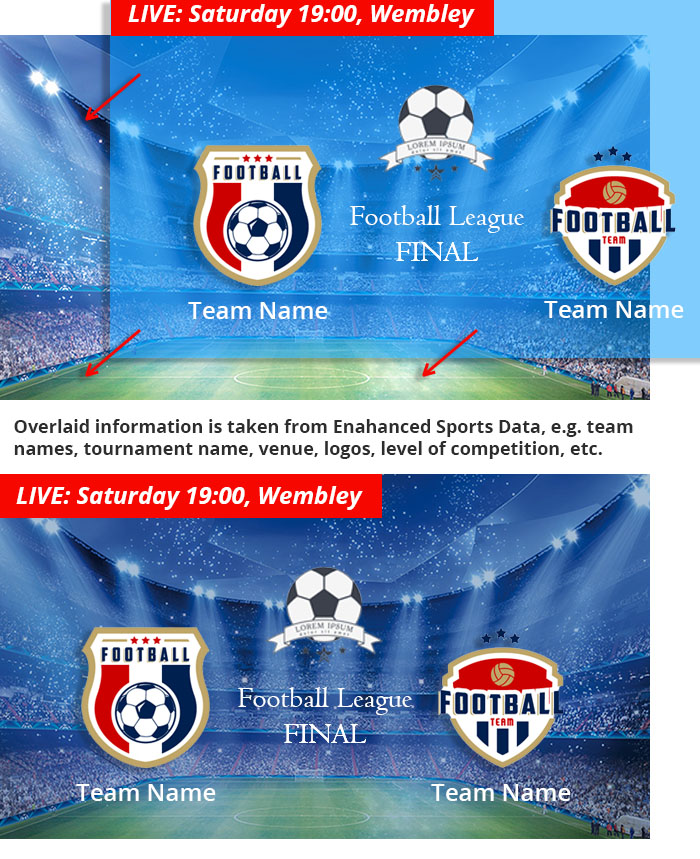 Integration with external data providers
ESD is a highly resourceful tool which combines sports data generated by Media Press with data supplied by external providers – such as Enetpuls, Sportradar and Opta.
Cloud-based teamwork solution
ESD features a tool for clients to further refine the already-enhanced data, via a modern cloud-located interface. This offers an option to edit data on-line, adding and amending text and graphic layers of records as desired.
Ready-to-use platform to build your sports service
ESD enables our editors to merge data from a host of other suppliers, harmonising and improving the quality of the information available to our clients. And ESD provides our customers with a platform to edit data as they desire.
Perhaps a client is looking to build an advanced website or an on-screen service featuring sports data that is integrated and adjustable to suit fend-users. Our ESD sports data comes in just the kind of modular structure that is required for such a project to work.
Language compatibility
It makes no odds whether the contest, game or competition is in a different regional, national or international tournament, or whether it is to be hosted at a home, away or a neutral venue. ESD assigns a uniform description to each football team, rugby squad, or Olympic national representative, regardless of language or team name variation. For example, ESD generates the name 'Liverpool', even if the basic EPG description names the team as 'Liverpool FC', or 'The Reds'.
Repeated or past transmissions
It may be that a match from a previous season is on the schedule or from a streaming service. This is not a problem – ESD tidies up the descriptions of teams, tournaments and events for repeat or highlight offerings.
This is good news for EPG platform providers, TV schedule publishers and the viewer at home, and it is why we say the viewer will get the enhanced EPG data in a coherent and structured format, according to whichever country, language or channel listing is selected.
ESD coverage:
Hundreds of disciplines – ESD is a versatile tool with a near-limitless capacity to generate data for any of several hundred different sports disciplines.
First and foremost – we are currently focusing on the most popular and important disciplines and tournaments, such as football, tennis, Formula 1, MotoGP, golf, snowsports, basketball, volleyball and handball.
Access to sports channels – ESD enables our editors to coordinate data about sports coverage across all major sports channels in Europe.
Breaking down the language barrier – ESD provides a complete data service in German, English and French. We also process sports data in Italian, Dutch, Polish and the Scandinavian languages. It is also possible to work with other languages.
---
Having introduced you to our Enhanced Sports Data service, now it is time to find out more.
Please contact us for a live demo or meet us face-to-face at IBC 2022!